Op vrijdag 28 juni 2013 werd na een bruisende en succesvolle finaleshow in Antwerpen de allereerste Mister Gay Vlaanderen verkozen. De 34-jarige Tom Goris werd verkozen tot de eerste Mister Gay Vlaanderen, een verkiezing voor homoseksuele mannen.

Tom Goris woont in Tremelo, is sinds 1997 uit de holebi kast en werkt als Insurance Officer - AG Insurance. Tom zal Belgiė vertegenwoordigen tijdens de Mister Gay Europe verkiezing in Praag in juli van dit jaar en Mister Gay World verkiezing op 4 augustus in Antwerpen tijdens de World Outgames. De prijs kreeg hij uit handen van Pascal Smet. De Vlaamse minister van Gelijke Kansen.

David Dedeene (30) uit Gent werd eerste ereheer en David Joėts (33) uit Borgerhout werd tweede ereheer. Antwerpenaar Johan D'hooge (26) kreeg van zijn collega's de titel van Mister Gay Vlaanderen Sympathie en Jeroen Aertgeerts (18) kreeg de titel van Mister Gay Vlaanderen Fotogeniek.

Tijdens de wedstrijd gingen de juryleden waaronder Minister Pascal Smet, Lesley-Ann Poppe, Joyce De Troch, Miriam Jacques, Lulu Aertgeerts, Geert De Puysseleyr en Marc Putman opzoek naar de perfecte verpersoonlijking van een mooie, mondige en stijlvolle Mister, die als ambassadeur van de holebi gemeenschap zal fungeren.Er bestaan veel schoonheids- of andere verkiezingen in Vlaanderen en aan elke doelgroep leek al wel te zijn gedacht, behalve aan de gay-mannen. Organisatoren Bram Bierkens, bekend als presentator, mediacoach en deelnemer aan het vtm programma 'Toast Kannibaal', en zijn partner Ivan Denis, Topsporter bij Defensie en Ambassadeur WorldOutgames 2013, geloven dat de MGV verkiezing, door net iets anders te zijn, een belangrijk en verantwoord verschil kan maken. De kersverse Mister Gay Vlaanderen, Tom Goris (34) uit Tremelo, is een Mister met een duidelijke boodschap. Hij wil actie ondernemen tegen pesten en hiermee zal hij ons land vertegenwoordigen op de Mister Gay Europe verkiezing in Praag en de Mister Gay World verkiezing, die dit jaar zal doorgaan in Antwerpen tijdens de WorldOutgames.

Bekijk hieronder enkele (4) video's van de verkiezingen:

Video: aankondiging winnaar Mr Gay Vlaanderen:


Video Mister Gay Vlaanderen Symphatiek 2013:


Video: Misters in swimwear MGV show 2013:


Video Tom Goris voor de verkiezing:


EERDER KON JE BIJ HOLEBI.INFO LEZEN:
FINALIST MR GAY VLAANDEREN (TOM GORIS) IN DE BRES TEGEN
PESTEN
EEN GREEP UIT HET OVERIGE NIEUWS:
MARINE VETRAAN WINT MR GAY USA EN ZAL ZIJN LAND VERTEGENWOORDIGEN TIJDENS DE MR GAY WORLD VERKIEZINGEN IN ANTWERPEN
GEZOCHT HOLEBI, TRANS, HETERO DIE ZICH WILLEN INZETTEN VOOR DUIZENDEN BUITENLANDSE HOLEBI'S DIE NAAR ANTWERPEN KOMEN
22-JARIGE IVAN DENIS IS UITHANGBORD VAN ANTWERPSE WORLD OUT GAMES (Holebi games)
VANG EEN HOLEBI BOEK IN VLAANDEREN - LAAT HET TERUG LOS EN VOLG DE WEG DOOR BELGIE EN VERDER
UNIEK: BELGISCHE RECHTBANK ERKENT VOOR HET EERST TWEE HOMO'S SAMEN ALS PAPA'S VAN HUN KINDJE
LESBISCH OUDERSCHAP IN BELGIE - GESPREK MET 24-JARIGE MET TWEE MOEDERS
UZ GENT: HORMOON BEHANDELING VOOR TRANS PERSONEN IS VEILIG - EN BOVENDIEN NUTTIG VOOR ANDERE ZAKEN
HOLEBI'S DAGEN VLAANDEREN UIT MET LEVEND TAFELVOETBAL TIJDENS DE GENTSE FEESTEN + VIDEO
BRUSSEL VIERDE TINNEN HOLEBI HUWELIJK - TIEN JAAR HOMOHUWELIJK IN BELGIE
BELG POLITICUS TROUWT HOLEBI'S WERELDWIJD
MEER NIEUWS: KLIK HIER

Bron: mrgayvlaanderen.be en https://www.facebook.com/MisterGayVlaanderen?fref=ts

Dit bericht is gepost op 29 June, 2013 en 4297 keer gelezen.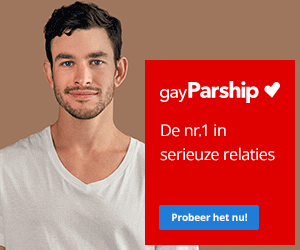 27 september 2019 -
Rock & Dolls
27 september 2019 -
La Demence
27 september 2019 -
Pop the Glock
28 september 2019 -
Bears Party
28 september 2019 -
Pop Cult
05 oktober 2019 -
Mr Gay Bear verkiezing
05 oktober 2019 -
L'HOMME
05 oktober 2019 -
La Hause
19 oktober 2019 -
Soiree Feminee
19 oktober 2019 -
22 Years Red&Blue
activiteiten kalender -
zelf iets toevoegen
Adverteren op holebi.info ?